On one side, an estimated 100,000 Russian soldiers have now been deployed to Ukraine's border. On the other, the US along with several Nato countries have begun to send millions in military aid. But what do Ukrainians make of it all?
"I'll take a gun and I'll go off to fight. I'm ready to taste the earth," he told the TV crew from the Russian-speaking TV news channel, Current Time.
He went on to describe how his contingency plan is already in place and that after taking his family to their summer house he would return to the city of Kharkiv and take up arms.
Situated less than an hour's drive from the Ukrainian-Russian border, and with thousands of Russian troops currently positioned just over the border, many commentators including Ukrainian President Volodymyr Zelensky have warned of the possible threat to the majority Russian-speaking city of Kharkiv.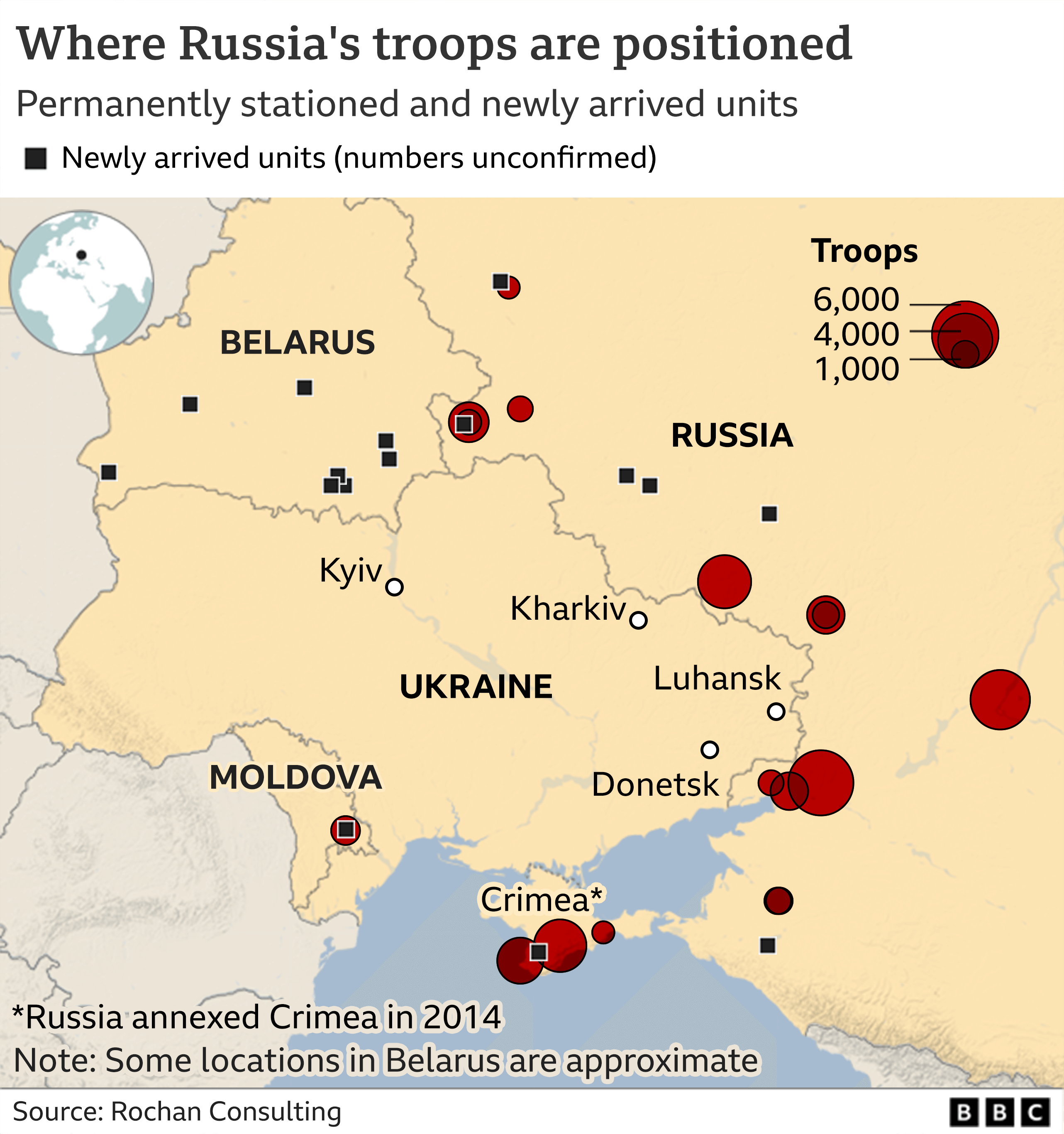 However, despite many observers' concerns, on the streets people remain calm.
"So far I don't see any signs of panic," says 27-year-old Antonina Baranova, a university lecturer from Kharkiv. "There are no long queues in the supermarkets yet of people stockpiling food."
President Zelensky himself, a few days before sounding the alarm of imminent danger to the city, had also called for the nation to remain composed.
"Take a breath. Calm down. There is no need to rush for buckwheat and a box of matches," said the president in his address.
Buckwheat, Ukraine's staple grain, a box of matches, as well as water, clothes and fuel are what some people – but not all, by any stretch – are reportedly beginning to stockpile in case the conflict does suddenly escalate.
But for those living in eastern Ukraine, where for the last eight years Russian-backed separatists have continued to control large swathes of Luhansk and Donetsk, battling empty supermarket shelves and severe fuel shortages is nothing new.
An estimated 14,000 people have died in the conflict, despite a peace deal being agreed back in 2015.
Social worker Olena Beliayeva, now 43 years old, describes having to take shelter in her cellar with her two children as pro-Russian rebels continued to attack her home town of Svitlodarsk throughout 2014 and 2015.
Now, she says, once again the town is preparing for the worse.
"I know that another shelter is being set up in the basement of a local kindergarten," she says.
For those living in the east, such as Olena, it's not a question of when or if Russia will invade. It's a matter of whether the current conflict will escalate even further.
"We now know, just as it was back in 2014 and 2015 when the Donbas war broke out, we must always keep our travel documents at the ready and our rent money to hand."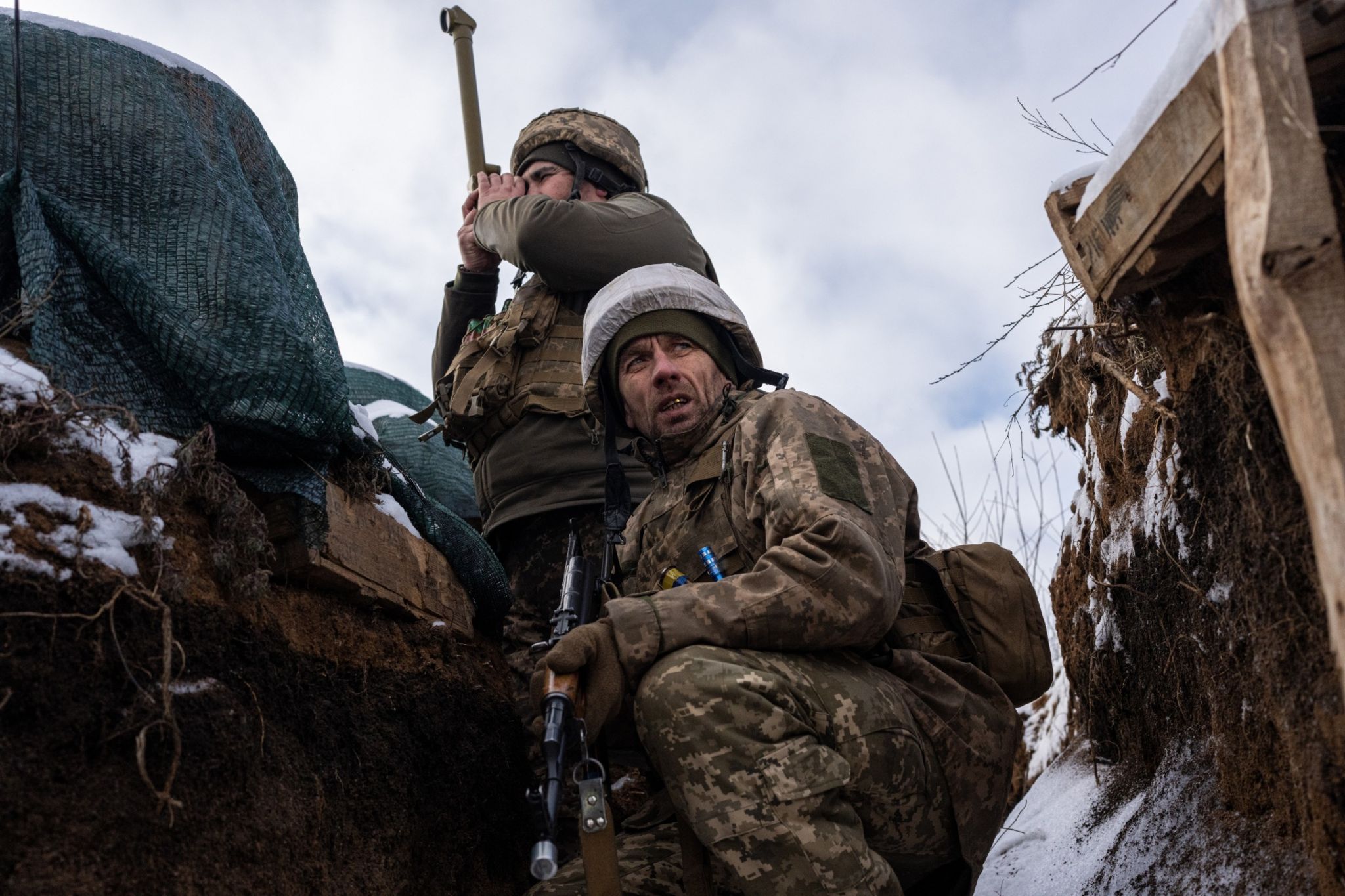 Russia denies it is planning any invasion, but it has seized Ukrainian territory before and with an estimated 100,000 troops deployed near its borders, it's understandable that people are nervous.
Even the minority of Ukrainians who are pro-Russian, many of them elderly and who hold a nostalgia for the former Soviet Union, don't want an escalation of the violence after eight years of conflict.
Far from the shelling and the harsh conditions of the trenches, for people living in the capital city of Kyiv, many say it's like living with a split personality.
One minute you're googling your nearest air raid shelter, the next, it's life as normal with shoppers out in the streets and packed bars on a Friday night. There is renewed fear of course, but after nearly a decade of constant conflict in the east, many Ukrainians say they have learnt to live with the lack of security.
"We Ukrainians are probably the most hardened nation in Europe due to the constant threat from Russia on our borders," says 44-year-old Fedir Balandin, an entrepreneur from Kyiv. He owns one of the oldest bars in the city centre as well as a travel agency.
He describes his state of mind as "determined readiness" for whatever happens next, whether it's contributing money or supporting the army. Like all his friends and customers, he says, they are ready to defend their country.