"This china always reminds me of my grandparents," Lydia tells me. We are sitting in her flat in Moscow, drinking tea from porcelain cups.
"My great-grandfather left the country to survive the pogroms. My grandfather survived Stalin's repressions, but three of his brothers and his father were murdered. He left the country. And now it seems I have to flee again. It just goes in circles."
Lydia is not her real name. With independent media closed, protesters arrested on the cities' streets and new laws leading to up to 15 years in prison for what the authorities determine to be fake news about the military, she doesn't want her details to be shared.
As Western companies leave Russia she says she's afraid few will come back for years.
"Big companies are fleeing the market because they can't afford to stay here, it's a reputational risk," she tells me. "It's an avalanche and we are just at the start.
"There are so many people around me losing jobs. I can't afford that."
Before Russia started what it calls a "special operation" in Ukraine, Lydia worked for an international IT company. Now all of the employees are being moved out of Russia. The staff were split with 100 team members working internationally, 100 in Russia and 100 in Ukraine.
"Some of our colleagues took up arms and went to fight for their country's independence," she says. "In my team there's a lady from central Ukraine, another from western Ukraine whose boyfriend went to fight. It took me a couple of days before I could get myself together to message them to say how sorry I am about what's going on."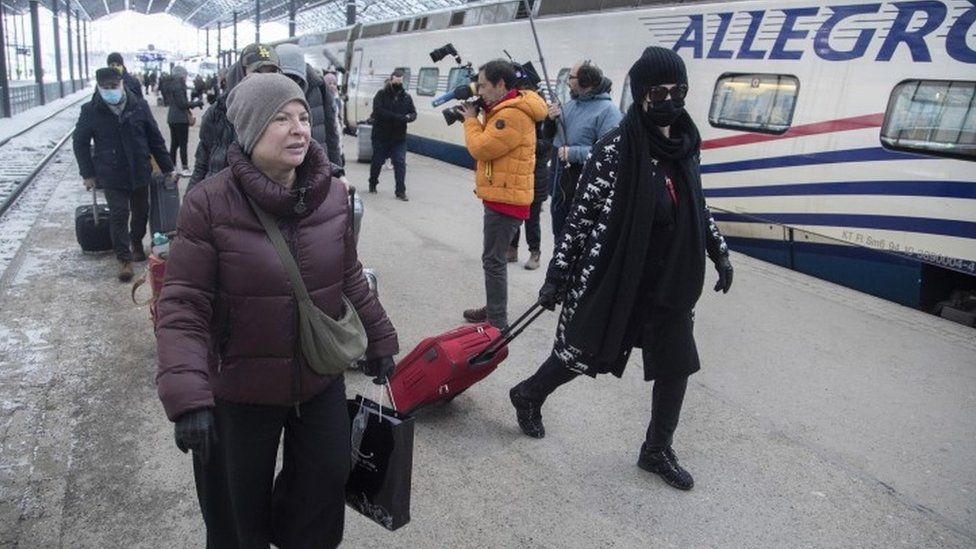 "I think it's going to take me and most of my friends years, before I can say I'm Russian and not feel ashamed."
Thousands of Russians have left the country since the beginning of Russia's military action, some worried about the deteriorating economy, others worried about potential rumours of martial law or political concerns about how Russia is changing.

War in Ukraine: More coverage

In Russia's shopping malls the shelves are still full, but well-known brands are already shuttered closed. The mannequins still stand in the windows, but the lights are off.
Outside a closed Sephora store I speak to Marina. She had planned to buy a perfume for her mother. She works as an optician.
"Clients are buying products like never before because they are afraid the prices will go up or they will stop supplies," she tells me. "I feel fear, but I'm trying not to think about it."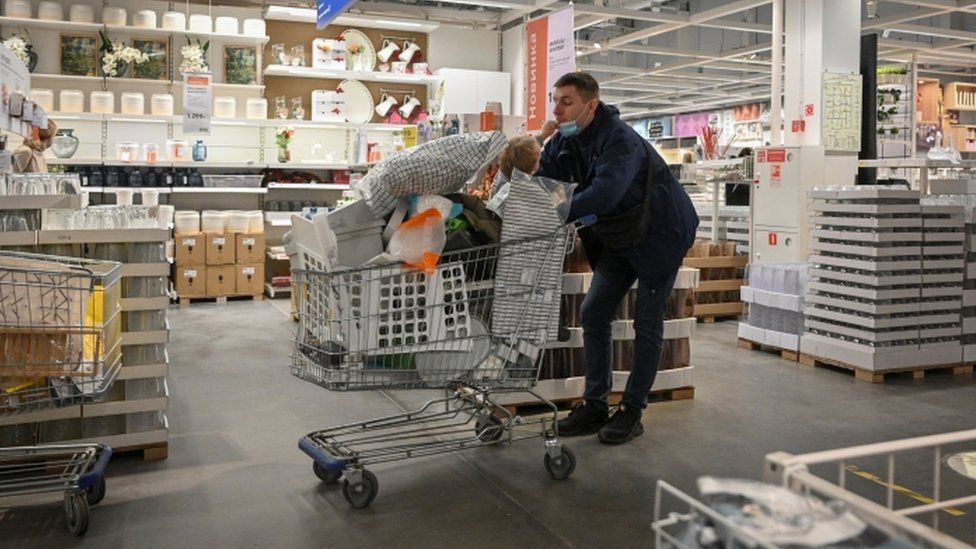 Others are worried about their savings. The Russian stock market has only been partially opened and the rouble has continued to fall against the dollar and euro.
"I had an investment account and had everything in here," a lady in her 20s called Ksenia tells me. "When I do access it there will be little left, everything is in roubles. Whatever happens, I will have to adapt. I would like to go abroad, but that's not an option for me."
Lydia feels she is one of the fortunate ones. She can leave the country, but is still deciding what to do. It would mean leaving behind her family, her home and her life here.
"I don't know whether I should pack for a month, a year or forever," she tells me.
"But I worry. I see a lot of supporters for this war around me, people who watch state TV channels. They seem like they've been blindfolded. It breaks my heart that if I stay I will have to live in a society where the war is acceptable. I don't want that."
More on this story
Russia soon unable to pay its debts, warns agency